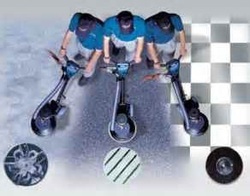 We also provide the following services

Tile and Grout cleaning- We use the rotary steam extraction method to clean your Tile & Grout using our powerful truck mounted machines. The combination of high heat and water pressure blasts the dirt right out of hard to clean Grout lines and with almost 100% water recovery your tile floors will be dry and ready for use typically in 1-2 hours. You'll be amazed when you see just how beautiful your Tile & Grout was when you first had it installed. We can also seal your tile and grout after restoring it to like new for an additional charge.

Upholstery cleaning- With 25 years in the industry we take special care when cleaning your Upholstery to determine the type of fabric, and the safest cleaning method for that fabric to achieve the very best cleaning results possible. Most fabrics can be cleaned using the hot water extraction method, but we have the experience to make sure your upholstery can be wet cleaned or needs cleaned using a dry method to avoid shrinkage and prevent colors from bleeding.
​
Deodorizing- We focus on finding out what the source of the odor is in order to better understand what is causing it, and the best solution to improve it or eliminate it all together. Deodorizer can be as simple as a topical treatment to just freshen up your carpets or more complex when dealing with pet urine odors and may involve a more serious approach to eliminate stubbun pet urine odors.

Scotch Guard protector- This Is a special treatment applied to your Carpets and Upholstery after they have been cleaned. Scotch Guard will help you remove spots and spills before they are absorbed into the fabric and become a problem. Scotch Guard also helps with the cleaning process the next time you have us clean your carpets and upholstery.
Call us today at 913-954-9269 to schedule your next cleaning.




---